Wolli Creek


Wolli Creek is a waterway in the Cooks River Catchment, bordered by a narrow corridor of bushland. It is set within Sydney's suburbs, where it continues to be exposed to the significant degradation that urban environments bring. Nevertheless, it is popular as a walking spot, is home to an increasing abundance and diversity of bats and birds, and there are patches of native vegetation scattered amongst the rampant weed cover.

The rehabilitation of our degraded natural environments is a long and slow process which requires commitment and participation from establishments such as governments, but also grassroots organisations staffed by locals and volunteers.

Public accessibility is key to what makes this place so special. To reflect this, I've used some of the language of comics and zines, an historically democratic medium, and mass printed the zine element allowing a larger number of people to take this artwork home and revisit it.






Return is about moving back to Australia just in time for the the cursed year that was 2020.

Jenny Robins writes: The genius of Niki's work is its deadpan refusal to be real or unreal. She combines metaphor with observation in a sort of total poetry of contained emotion. It evokes so perfectly the feeling of being within one's own life, trapped by banal existence, and at the same time being aware of layers around and beyond our immediate selves, and the noisy barriers of culture and concrete that come between us and that awareness.

Read more on Broken Frontier.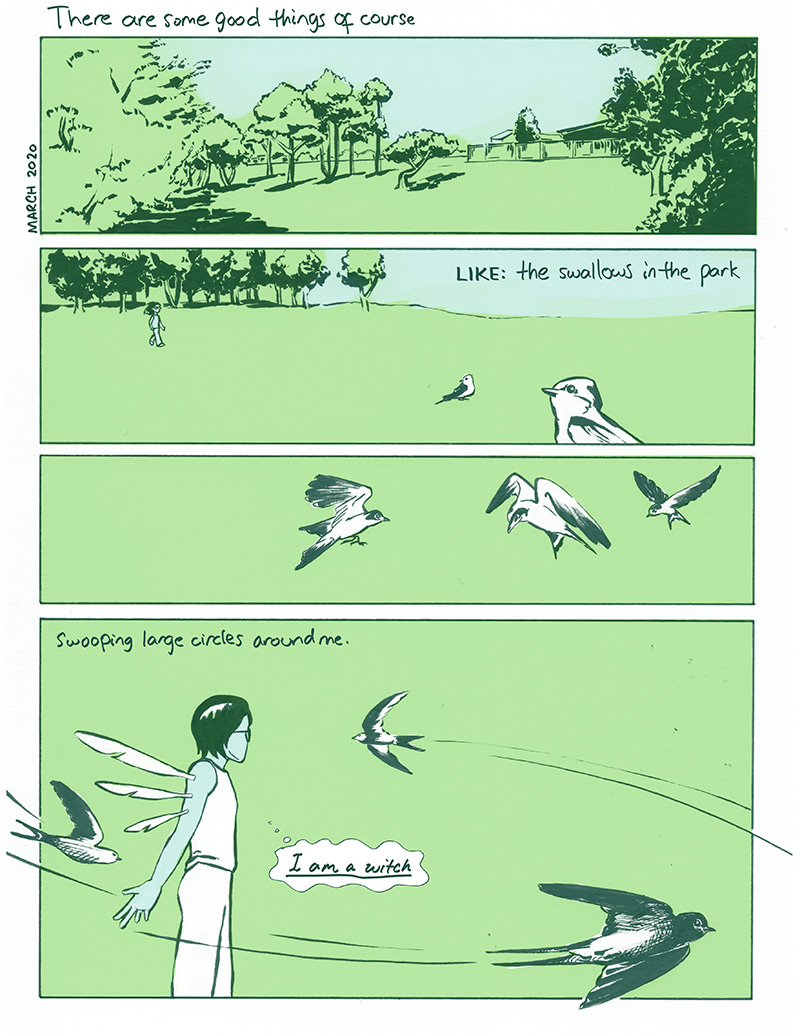 Shortlisted for the Comics Arts Awards of Australia, 2022!

Buy:
From Good Comics if you're in the UK
From me if you're in Australia
A different fire


In the summer of 2019-2020, about 7 million hectares of land burned in Australia, an area just smaller than Belgium. This has resulted in the deaths of an estimated billion animals, not including those lost afterwards due to injury, lack of food, water, and shelter, and increased vulnerability to predators. Not including insects and the microorganisms that make the ecosystem functional.

I hope that this comic helps to illustrate some of the ways in which climate change affects the fire landscape: it increases the growth of biomass, reduces the moisture in the fuel both above and below ground, and contributes to weather extremes. These are the factors which, when combined, create unprecedented megafires. I urge you to pressure companies, decision makers, family, and friends to take responsibility in the ongoing climate emergency.

Tethered
---

Words and concept Jacob Payne
Art Niki Bañados

For the WIP Comics Progress Anthology, 2019
'featuring over 20 short comics in multiple styles and genres from creators both established and new, all interpreting the title theme in their own way.'

You can buy the Progress Anthology from WIP comics if you're in the UK, or from me if you're in Australia (I have a *very* small handful of copies).


---

Progress images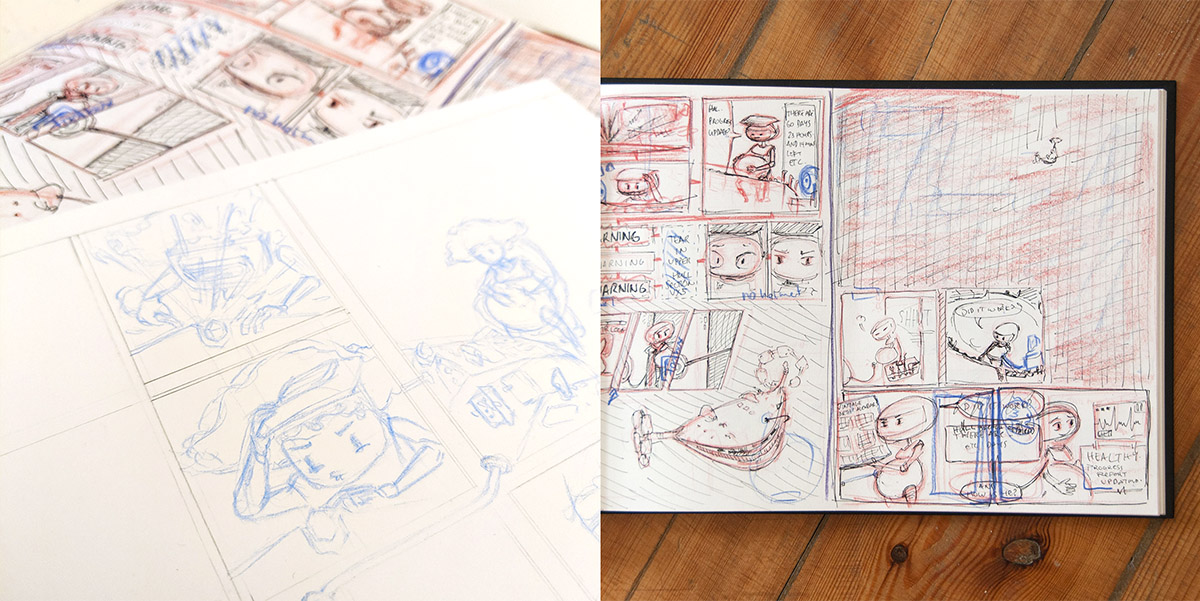 Grandmothers' Tales


This was first published on Good Comics.

Grandmothers' Tales came about when I was trawling through old files, and found some recorded videos of my grandmother telling me stories of World War 2 in the Philippines, which I remember being very captivated with as a child because the entire notion of it was so extreme, and the details so gory. As an adult I see it now in its socio-political and historical context, which is a lot more sobering.

I thought about how I used to talk to my grandparents more as a child, but how time and distance has changed this, and about how much learning I could be missing, and how many stories there are that I don't know about.


---
---

This is an ongoing project with other artists, and so far two other comics have been created. You can read them by clicking below:



---


We printed a pilot zine of the first three, which you can buy from Good Comics if you're in the UK, or from me if you're in Australia.